who did the killer whale at sea world kill news

Paul Boyle, national director of Animal Humane, said: "Animals need and deserve great welfare, and families deserve to know that the zoos and aquariums they visit are doing right by the animals in their care.
Activists have called for the tourist attraction to be closed as whales, dolphins and other big fish cannot live in their natural habitat.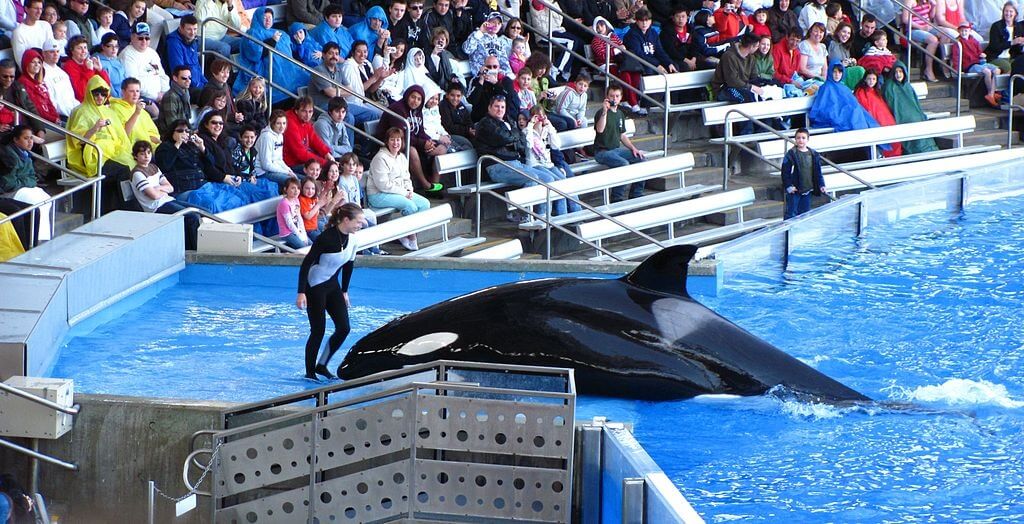 "We don't know for sure what motivated Tilikum. But there's no doubt that he knew exactly what he was doing. He killed her."
Learn more about cruelty at SeaWorld on The PETA Podcast:

SeaWorld also noted that Tilikum was "inextricably connected" with the death of his trainer, Dawn Brancheau, in 2010. "While we all experienced profound sadness about that loss, we continued to offer Tilikum the best care possible, each and every day, from the country's leading experts in marine mammals," the SeaWorld statement said.
Tilikum bit down on the ponytail of Ms. Brancheau, his 40-year-old trainer, before dragging her underwater and killing her. After her death, SeaWorld conducted an extensive review that resulted in trainers further isolating themselves from the animals for safety.
As Blackfish co-writer Tim Zimmermann recently wrote for National Geographic, "His life has changed how we view SeaWorld and the marine park industry, and changed our moral calculus regarding the confinement and display of intelligent, free-ranging species."
SeaWorld trainer Dawn Brancheau (shown in 2005) was dragged underwater by Tilikum and killed in 2010.
The CEO of the Humane Society of the United States, Wayne Pacelle, said Tilikum was "caught up for decades in the old business model of captive orcas on display", but expressed hope that "the era of keeping these great animals in captivity will actually end."
Tilikum was featured in the documentary Blackfish, which criticised parks that keep killer whales in captivity.
References:
http://www.seaworldofhurt.com/features/seaworld-trainer-dawn-brancheau-death/
http://www.nytimes.com/2017/01/06/science/tilikum-dead-seaworld-whale-blackfish.html
http://www.nationalgeographic.com/news/2017/01/tilikum-seaworld-orca-killer-whale-dies/
http://www.bbc.com/news/world-us-canada-38531967
http://www.southstrandnews.com/news/sea-ing-is-believing-whales-off-litchfield/article_006d5f65-a657-5c1b-9268-a1cc9ec8a21d.html